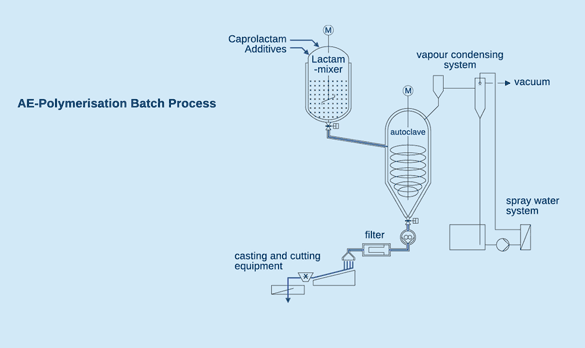 For modified Polyamide 6 polymers or for low production capacities the batch polymerization process is advisable.
A fast change of product specification is possible and the production can be stopped and started at any time.
The batch polymerization can be engineered with batch or continuous extraction and batch or continuous drying of chips.
The lactam water concentration plant is similar as for the continuous process.
Batch polymerization lines are offered up to 2,5t/b and up to 6 b/d, depending on the viscosity.
The batch polymerization process can be used for the production of Polyamide polymer of different applications like textile, BCF, technical and compounding products.
Advantages
modified polymer production
fully automatic
simple design
high flexibility
low energy / utility consumption
continuous extraction and drying / SSP possible